Amsterdam – City Guide
So if you follow on Instagram you'll know that I went to Amsterdam for my 40th and had an amazing time.  Such a beautiful, fun and inspirational city….I could happily live there, and I don't say that lightly. There aren't many places I'd swap this beautiful island for.
When I was planning my 40th trip, the original was New York, but I've been there and to do it properly you need a lot of dollars. As we've been spending all ours on the house recently I couldn't justify it, and I'm not that keen on flights lasting more than a couple of hours 🙂  Then it was to be London, but a stay at The Ned and train tickets for us for one night was more expensive than the Dam…so no brainer.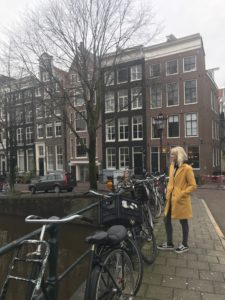 We stayed at The Hoxton which cost £140 per night for a cosy room. We were there Monday to Wednesday and the one hour flight from Liverpool meant a 2 night stay gave us nearly three full days to explore.
The Hoxton couldn't have been more perfect. Amazing interiors…that's obviously very important. Staff were so friendly and the food and whole experience is just brilliant. They even sell booze for you to take to your room at supermarket prices, so no expensive mini-bar bills!  The complimentary breakfast bag in the morning with yogurt granola and a banana is an ideal pre-breakfast breakfast 🙂
The rooms are beautifully kitted out, with the "YAY" balloons on the headboard a special touch.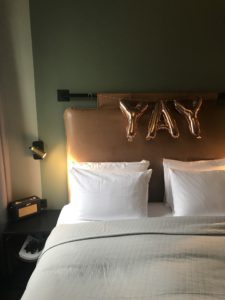 The Hoxton is very central too. Amsterdam is easy to navigate, even for me, and everything seems close by.  We explored our surroundings on day one, juts to get a feel of the area.  We wandered the streets and canals calling into some lovely bars for drinks and snacks as we went. The Dutch are very friendly and we were made to feel welcome everywhere.  It's not particularly expensive either.  I hadn't booked anywhere to go for my birthday meal because this trip was a break from the hectic, structured and scheduled day to day of three children and running a  business. Time to go with the flow, at canal pace.
My birthday was on the Tuesday. After researching the city before arriving,  we headed to the trendy De Bijp district, where many of the places I'd researched were situated.
Brunch at the vintage retro Cafe Brecht such a cosy retro vibe, with an Elvis soundtrack, perfect.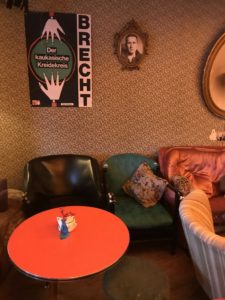 We then did a bit of shopping, so many lovely lifestyle stores to inspire.  Picked up a few pieces in Scotch and Soda, could've easily had a whole new wardrobe!  Even John splashed out.
More mooching and bar hoping, before the return to the Hoxton to glam up for cocktails around the corner  at Pulitzer and dinner at Janz.  Interiors and atmosphere are just as important as the food for me in restaurants.  All 3 were perfect here, such a good choice.  A cheeky tequila at The Hoxton before calling it a night.
Breakfast at The Lobby was rather special!
We mooched around  – where we discovered more fabulous boutiques and buildings.  And basically had an ace time!  You should go.
For our last meal at the Dam we went to Tinner, it's the bar I'd want in Menai Bridge one day.  They have an upstairs restaurant too.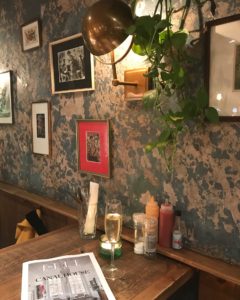 So many great places, take a look be inspired:
SaveSave